As we look back over the past 45 years that we have been serving our friends and neighbors, the many changes we have seen in Bowie come to mind. In the not too distant past, Bowie was a sleepy little community. Today, we live in a built up community of thriving businesses and many friendly neighbors. No matter what changes we have seen, one thing stays the same---Levitt homes stand the test of time. Yes, they are due for some updating, but over the past 44 years, they have proved to be quality, solid built homes.
Bowie homes lend themselves to changes and improvements. Take for example, the hundreds of additions we have built, along with hundreds of kitchens and bathrooms we have remodeled. Looking around our community, it is hard to find a home without some type of changes. With the large lots and beautiful landscaping found here, you cannot find a better community to live, work, play, and raise a family. We are happy to be a part of the expansion in our community, and are grateful to our loyal friends and neighbors for giving us the opportunity to serve them.
It makes sense to invest in your home. Any improvement you make will keep adding to your home's value. We would like the opportunity to help you make those improvements and turn your dreams into a reality.
We look forward to hearing from you!
So, what is your next project?
Keep in Touch,
THE BOOTH CONSTRUCTION FAMILY
An interesting tidbit: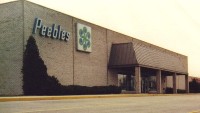 Remember the Peebles Department store located at The Market Place? Interior improvements were one of our early projects.